코딩을 할 때, 작업하는 위치가 바뀌면 바꾸어야할 설정들이나 설치해야하는 프로그램들이 많아 매우 곤란합니다.
특히 온라인 서비스와 관련된 작업이라면 로컬 환경을 서버와 동일하게 맞추어야 해 더욱 손이 많이 가지요.
하지만 이러한 사전 작업들의 반복을 줄여주는 서비스들이 있는데 그것이 바로 Web IDE 라고 불리는 online ide 입니다.
인터넷 브라우저만 있다면 언제어디에서나 웹 사이트를 통하여 IDE를 사용할 수 있기 때문에 항상 같은 화면을 보며 작업을 할 수 있습니다.
더구나 테스트를 위한 환경 또한 제공하는 경우도 많아 작업한 코드를 쉽게 테스트할 수 도 있습니다.
이런 Web IDE에는 여러가지가 있는데, 대표적으로 Cloud9, Codenvy, Goorm, CodeAnyWhere, Koding 등이 있습니다.
이 중 좌측 4개의 서비스는 VPS hosting과 비슷하게 가상의 작업 공간을 제공하며, Cloud9, Goorm, Code AnyWhere는 Ubuntu 14.04 LTS trusty 환경이 , Codenvy는 2016-04-21 공개된 Ubuntu 16.04 LTS xenial 환경이 구축되어 있습니다.
아래는 가상 작업 공간을 지원하는 세 서비스를 비교한 표와 각 IDE의 구성화면입니다.
단, 제가 어두운 배색을 좋아하는지라 모두 스킨을 변경해 둔 상태입니다.
Goorm
Cloud9
CodeAnyWhere
Codenvy (Next-Generation Beta)
OS
Ubuntu 14.04 LTS trusty
Ubuntu 16.04 LTS xenial
RAM
512 MB
512 MB
256 MB
–
HDD
5 GB
2 GB
2 GB
1 GB – 3 GB each, total 100 GB
SuperUser support
Sign in as root
Take root via 'sudo su'
Workspace resizing
Not available in beta
Available with premium service.
RAM(256 MB – 2.5GB)
HDD(1GB – 10GB)
Not Available
Available only on creation.
Number of
available workspace
1
1 private, unlimited public
unlimited private with premium
1
Limited by sum of workspace size (100 GB)
Collaboration support
Supported
Not supported
Note
Workspace specification and Number of available workspace change with monthly fee
Goorm IDE
Cloud9 IDE
Codenvy
CodeAnyWhere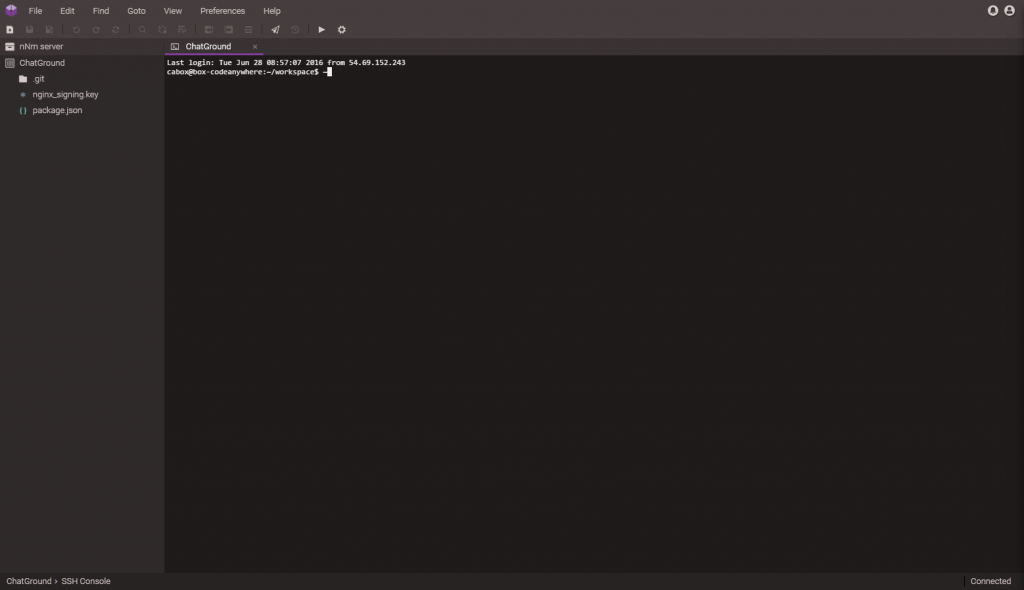 다음 글에서는 위의 IDE들에서 nginx 1.11.1, node.js 6.2.2, mongoDB 3.2.7 을 설치하는 방법을 소개하도록 하겠습니다.